Denoia, Mike
Football (Deleware County Chapter)
Mike was a Great football, basketball star for powerful teams at Hazleton High and Scranton University. All-State, Little All-American. Recruited 1949 by New York Giants, Washington Redskins, Chicago Bears, Pittsburg Steelers of NFL and San Francisco '49ers of AAFC. Played in All-American Football Conference and Eastern Professional Basketball League, left-handed. Known as "Triple-Threat Quarterback" in passing, running, pass receiving. Drafted Korean War. In Germany, he quarterbacked the Munich Broncos to a Western Conference Championship. Find scholastic coach. In Greater Hazleton Area, Scranton University, Luzerne County and Delaware County Halls of Fame.
Gemski, Elvetta
Field Hockey (Luzerne County Chapter)
National Field Hockey High School Coach of the year 2004. Crestwood High School's team had perfect 26-0 record, second consecutive championship. Elvetta created Crestwood's field hockey program 1973. Qualified for state playoffs 20 years (7 Final Four finishes, 12 league, 15 district II championships, four Class 2A State Championships 1988-1999-2003-2004). Overall record 478-92-93. Helped numerous players obtain college scholarships, several members of national teams, one a member of 1996 U.S. Olympic field hockey team.
Hart, Dick K.
Pro Football NFL (Bucks County Chapter)
Considered the greatest all around athlete ever to come out of Bucks Co., Dick Hart of Morrisville H.S., was the 1961 Lower Bucks Football Player of the year and an Honorable Mention H.S. All -American as a running back. He was named to All-Lower Bucks County teams in Football, Basketball, Baseball, and Track. Dick still owns the Bucks Co. Shot Put record of 64′ 3¾". He is a member of the PA Track Hall of Fame. After graduation from HS, Dick turned down a full scholarship to Notre Dame to sign a Professional baseball contract with the Milwaukee Braves; he played four years of Minor League baseball then joined the Philadelphia Eagles in 1967. He was the starting guard for the Eagles, making the All-rookie Team in 1967. In 1972, dick finished his career as the starting guard for the Buffalo Bills; he retired after his second knee surgery in 1972.
Klotz, John "Jack"
Football (Delaware County Chapter)
Jack Klotz was an outstanding Pro football lineman who started AFL career at age 27 because of service in US Marine Corps. After College graduation, made NFL Los Angeles Rams regular season roster, Drafted, enlisted in Marines. Returned to five year career in AFL with New York Titans and Jets, San Diego Chargers, Houston Oilers. 6′ 5″, 256 pound dominant offensive tackle. 1963 "Coaches and Players" All-Pro. Great athlete at PMC Prep in football, basketball, baseball, track and Pennsylvania Military College (now Widener). Three sport letterman. Football captain. 1955-1956 Little All-American recognition. Excellent work 30+ years in Chester "City team", other community programs.
Petercuskie, John S.
Football Coach (Bucks County Chapter)
Petercuskie is one of the premier football coaches in Bucks County. From 1960 to 1965 his Neshaminy Redskins compiled a remarkable record of 59-1-5, including a 51 game win streak. That's a 91% win percentage over 6 seasons; if you take out the ties, it's 98.33%! John was voted Coach of the Year 4 Times. After Neshaminy Coach "Cuskie" served as defensive line coach at Dartmouth from 1966 to 1968, defensive coordinator at Boston College from 1969 to 1972, and Princeton University from 1973 to 1977. In 1978 John joined the Cleveland Browns as Special Teams Coordinator where he remained until 1984. Coach came out of retirement in 1988 to coach the defensive line at Harvard 1988 and 1989; from 1990 to 1995, he coached the special teams and defensive line at Liberty University John coached football for 40 years. He was inducted into the PA Football Coaches Hall of Fame in 2004.
Schuh, Harry F.
Football, College & Pro (Bucks County Chapter)
Harry was a legendary athlete at Neshaminy HS. He was a two time All-State selection and played in the Big 33 All-Star Game. Harry played college football at Memphis State where he was an All0American his Jr. & Sr. years. He played in the Senior Bowl and the Blue-Gray game. All-American Game, College All Star game. He was inducted into the Tennessee Sports Hall of Fame in 1989, Neshaminy HF in 1985, University Memphis HF in 1981 and B.C. Hall of Fame. In 1965 Harry was drafted by the Oakland Raiders from 1965 to 1970 before being traded to the Los Angeles Rams; stayed with the Rams until 1973 and retired after playing in the first NFL Pro Bowl and Super Bowl II. Harry was selected along with Art Shell as the Offensive Tackles on the All Time Raider Team.
Sandusky, Alex
Football (Western Chapter)
Alex was a two-way starter at Clarion State College. Gained All-District, All-Conference, and All-American recognition at End in 1952 and 1953, He was an NAIA Hall of Fame selection in 1958 and Clarion's All-Time team in 1961. Alex was drafted by the Baltimore colts in 1954; he started at Guard on the Great colt teams of the 50's and 60's for thirteen years. Alex was a Colt silver anniversary Honoree in 1978 and their 50-year team in 2002, A Western chapter Inductee in 2008.
Spooner, Harold E.
Football, Basketball & Baseball (West Branch Valley Chapter)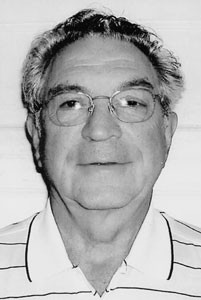 1953-1956: Football, Basketball, Track Williamsport High School. 1948-1956: Baseball Williamsport area. 1956-1957: Football, Basketball Columbian Prep, Washington, DC. 1957-1961: Football, Basketball, Baseball US Naval Academy. Quarterback Navy's 1960 team to a 9-1 record and trip to the Orange Bowl with running back Joe Bellino, Navy's first Heisman Trophy Winner. Victories over Boston College, Villanova, Washington, SMU, Air Force, Pennsylvania, Notre Dame, Virginia and Army. MVP first Navy-Air Force game. All-East Selection, Honorable Mention All-American. 1961: Quarterback coach Plebe Team with Roger Staubach at quarterback.
Sheptock, Frank
Football (Ed Romance Chapter)
First Team AP All-American 1983-84-85 as linebacker at Bloomsburg University. Captain for three years and leader of 1985 tam that played in the Division II Semi Finals. Career tackle leader at BU with 537 – Season 159 – Game 23 and namesake for Defensive Player of the Year at BU. 1997 Bloom U Hall of Fame and Named member of NCAA Div II Football Team of the Quarter Century – 1982 grad of Mount Carmel Area. Current Head Coach at Wilkes U (10 years).
Harris, Walter "Bucky"
Basketball (Summit Chapter)
Raised in an orphanage. Joined Marines to fight at Iwo Jima at age 16. Earned a Basketball Scholarship at Gettysburg College where he was name All-State First Team basketball player in 1949, 1950 along with NBA Hall of Famer Paul Arizin and NBA star Larry Foust. Named head Basketball Coach at Philadelphia Textile (now University). In 13 seasons, he compiled the 2nd best winning percentage (all-time Div. 11) with 242 wins, 54 losses leading his team to 6 NCAA tournaments. He coached legendary coach Herb Magee from 1959-163. His exceptional leadership at Philadelphia University for 43 years yielded a revered legacy. He established a $500,00 scholarship there in memory of his son, Billy to help needy students. The University paid tribute to Bucky by naming one of the basketball courts and an athletic field scoreboard in his honor.
Stephens, Sandy E.
Football (Fayette Chapter)
Sandy won 9 letters during his High School career at Uniontown H.S. starting QB on undefeated 1957 team. All-State selection scored winning TD in first Big 33 Game. First Black man to play QB at the University of Minnesota, only QB to take Gophers to Rose Bowl (1960 and 1961). Led Gophers to National Championship. Became First African-American All-American QB. Fourth in Heisman Trophy Balloting in 1961 and MVP Big 10 Conference. Drafted by Cleveland NFL, New York AFL, played in CFL. Rose Bowl Hall of Fame and Awarded NCAA Legends Status.