For the past 60 years, the Pa Sports Hall of Fame has honored and inducted over 753 incredible men and women who have made a lasting impact in Pennsylvania through extraordinary athletic achievement and contributions. Whether these activities have been achieved on or off the field, we honor them. And through our future virtual museum we will educate and celebrate their achievements for years to come.
PA STATE HALL OF FAME 2023 INDUCTION CEREMONY is Saturday, October 28, 2023
Four-time Olympic Medalist Bruce Baumgartner is considered by many as the greatest heavyweight freestyle wrestler in American history. He won the 1986, 1993, and 1995 World Championships. In 1996 Bruce was voted Co-Captain of the U.S. Olympic Team and carried the Flag in the Opening Ceremonies at the Centennial Olympic Games in Atlanta. He was the winner of the James E. Sullivan Award in 1995 as the outstanding amateur athlete in the United States. From 1981 through his retirement in 1997, he did not lose a match to an American Wrestler. One of eight athletes in U.S. history to medal in four different Olympiads winning a bronze, a silver, and two gold medals.
Jerry was an official in the National Football League from 1966 until 1995. His tenure of 30 years is the third longest in the history of the league. He was the head linesman in four Super Bowls, two Pro Bowls, and numerous post season games. He is a graduate of North Catholic High School in Pittsburgh where he quarterbacked the football team. He has coached sandlot teams and presently coaches a grade school team which has a record of 148 wins and 28 losses. From 1951 till 1965 he also found some time to umpire baseball. He has received numerous sports and civic awards including Pittsburgh Dapper Dan Awards in 1979 and 1985.
Bud was an All WPIAL performer at Freeport High School and went on to become an All-Conference player at the University of North Carolina. He went directly into coaching after graduation and spent 7 seasons at UNC as an assistant, became Defensive Coordinator at South Carolina and then Georgia Tech, and moved up to Head Coach at Tech where he had a 25-25 record. He moved on to become one of the top Defensive Coordinators in the NFL. Except for a two year stint as Head Coach at Cleveland, his career spanned seven teams, including seven years with the Pittsburgh Steelers where he became the architect of the famed "Steel Curtain" defense.
In high school, Gus was a "State Champion in 1949. He was a member of the U.S. Olympic team in 1952. In 1953 he was an NCAA Champion that was undefeated in college dual competition. After college he turned to coaching his beloved sport and began producing championship wrestlers and championship teams. His record included 22 Section Championships, seven WPIAL Championships, and six State Titles. He was a four time, WPIAL and two time PIAA Coach of the Year Honoree. He turned to college coaching and won the Eastern Regional Championship in 1994 and 1996 at Duquesne University. He has been the recipient of a National Wrestling Hall of Fame Lifetime Service Award.
An outstanding performer at quarterback on some great Donora High School teams where his senior season brought him High School All-American Honors. He took his leadership and athletic skills to West Point and garnered 11 major letters playing football, basketball, and baseball. His athletic career was interrupted by his military obligation in Korea. He returned a highly decorated veteran and managed to play two seasons in the NFL with the New York Giants and the San Francisco 4gers in 1953 and 1954. Upon leaving the game, he enjoyed a very successful business career in the Chicago area.
An all-around athlete out of Donora, PA , Ken chose a baseball career which spanned 19 seasons from 1973-1991. During that time he played with the Reds, Yankees, Braves, and Mariners. His play with the Cincinnati Reds led to his recent induction into the "Big Red's" Hall of Fame. He played in 2,097 games, batted .296 and had 2,143 hits, 152 home runs and 859 RBI's. Playing the outfield, he was an All-Star selection in 1976, 1977, and 1981. In 1990 he became part of the leagues first father-son playing duo when he was joined on the Mariners by son Ken Griffey Jr. After his retirement he coached with both the Reds and the Mariners.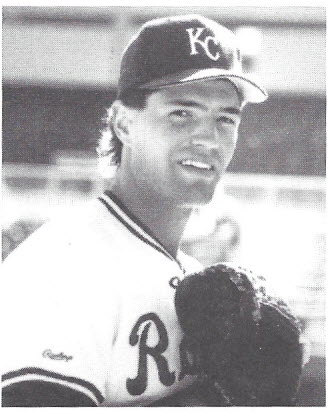 Mark had an outstanding major league baseball career with the Kansas City Royals. He was a 20-game winner in 1988 when he placed third in the Cy Young voting. In 1985 he won Game 6 of the American League Championship Series. He led the American League in games started in 1989 with 36 and 1995 with 33. His ability to take the mound on a regular schedule places him high on the Royals pitching career list in many categories: he is third in wins, third in shutouts, second in starts, and second in innings pitched, He holds the Royals' record for strikeouts in a game with 14 and had 16 career shutouts including a one-hitter against Oakland.
Dick came out of small Midway High School to become a two-year starter at the University of Pittsburgh, played in the East-West Shrine All-Star Game and was a starting wide receiver in the College All-Star Game in Chicago.
His professional career lasted seven seasons, the last four with his hometown Pittsburgh Steelers. He moved into the Steelers' front office and spent 21 years as Director of Player Personnel during which time the Steelers won four Super Bowls.
Dick has recently retired as Director of Player Personnel with the New York Jets. However he remains active with football as the chief scout for the Jets in Florida.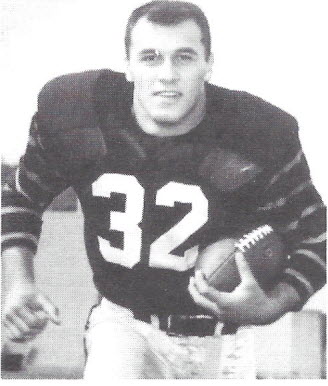 Cosmo was an AP All-State athlete out of West Scranton High School. He went on to become a standout two way performer at Princeton where he garnered First Team All-American Honors in 1964 and was twice named All-Ivy. He led the nation in scoring in 1963 and captained the undefeated (9-0) 1964 team. His exploits earned him the Football Foundation Scholar-Athlete Award, the Poe Kazmaier Award, and made him a Heisman Trophy Candidate. He had 1895 career rushing yards, 31 touchdowns, and averaged 5.28 yards per carry his senior year. He led Princeton to back-to-back Ivy League titles. Cosmo is a National Football Foundation College Hall of Fame inductee.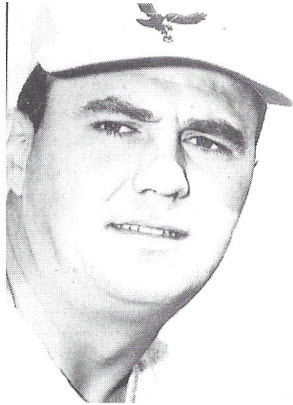 About This Inductee:
• Plymouth High School-football and basketball
• Notre Dame quarterback 1949-1951
• Led Irish to National Championship in 1949
• Assistant coach at Tulane 1955-1959, Marquette and Boston College
• 1962 joined Buffalo Bills as assistant coach
• As offensive coordinator helped Bills win 3 Division and 2 AFL championships
• 1969 offensive coordinator with Boston Patriots, in 1970 took over as head coach
• Inducted into PA Sports Hall of Fame in 2004
John was an outstanding athlete at Plymouth High School where he starred on the football and basketball teams. A star player at Notre Dame, where he was a member of the 1949 national-championship team. He quarterbacked the Irish from 1948 through 1951. He led the Irish to a National Championship in 1949. His love for the game turned him to coaching, as an assistant at Tulane from 1955-1959 and then Marquette and Boston College.
In 1962, Lou Saban hired him as assistant coach of the Buffalo Bills. Mazur became the offensive coordinator of the Bills and helped Buffalo to three division titles and two AFL championships. In 1969, he became offensive coordinator of the Boston Patriots, and he was named head coach in 1970, succeeding Clive Rush. He lead the team to a 6–8 mark that year, which included upsets of the Miami Dolphins, Baltimore Colts and Oakland Raiders, the team enjoyed its best record since 1966, and Mazur was awarded a new contract with a substantial pay increase. Mazur then resigned on November 13, 1972.
Mazur would resurface the next year as defensive backs coach with the Philadelphia Eagles, and would survive the dismissal of much of the coaching staff following the end of the 1975 NFL season. However, after just one year working under Dick Vermeil, Mazur left in 1977 to join former Eagles assistant Walt Michaels, who had been hired as head coach of the New York Jets.
After two years as defensive backs coach with the Jets, Mazur was promoted to defensive coordinator in 1979, helping the team to its second straight 8–8 season. The following year, the team's fortunes dipped considerably with a 4–12 mark, while Mazur's health also took a turn for the worse. In December, he announced that he would be retiring to battle the effects of Parkinson's disease.
He died November 1, 2013 at the age on 83.
Dick is a graduate of Mt. Lebanon High School and the University of Michigan where he had an outstanding career in the sport of Diving. He was the Big Ten Conference Diving Champion in 1971 and the winner of the prestigious Big Ten Scholar/Athlete Award. His skill off the boards also brought him a Silver Medal at the 1971 Pan Am Games. He also won the Silver Medal at the 1972 Olympic Games. During his career, he was a USA National Diving Champion seven times. He remains active in his sport as a sponsor of the Dick Rydze Divers in Ames, Iowa. He is presently a team physician with his home town Pittsburgh Steelers.
About This Inductee:
• Swoyersville High School-All-State in football and basketball
• Penn State University, played in Liberty and Gator Bowls
• Two-time All-East and All-American honors
• 1966 named to Penn State's All-Time Team
• Played in NFL for 7 seasons with SF 49ers, Atlanta Falcons, Detroit Lions and Philadelphia Eagles
• Coached football at Nanticoke, Hazleton and Freeland high schools
• Inducted into PA Sports Hall of Fame in 2004
A two-sports star at Swoyerstown High School, Chuck garnered All-State honors in both Football and Basketball. He went on to be a two way starter at tackle for Penn State, playing in the Liberty and Gator Bowls. His efforts gained him two time All-East Honors and All-American honors in 1962. He was once named Sports Illustrated Lineman of the Week and was named to the Penn State All-Time Team in 1966. He played in the NFL for seven seasons with the; San Francisco 4gers, Atlanta Falcons, Detroit Lions, and Philadelphia Eagles. After his professional career he turn to high school coaching with stints at Nanticoke, Hazelton, and Freeland.
He died May 16, 2020 (aged 80).
A four-year letterman at East Texas State, Dwight found football stardom in Western Pennsylvania and decided to make it his home. An outstanding defensive end, he was an original member of the famed "Steel Curtain" defense which defined the Steeler teams of the 70's. The team won four Super Bowls and he was named to the Pro Bowl in 1972 and 1973. Dwight recorded the first Super Bowl safety when he trapped Fran Tarkenton in the end zone. Although one of the top pass rushers at the time, he twice intercepted two passes in one game. His NFL career lasted from 1971 until 1979 and he recorded a regular season sack total of 56.
Return to Inductee at a Glance main page.