For the past 60 years, the Pa Sports Hall of Fame has honored and inducted over 753 incredible men and women who have made a lasting impact in Pennsylvania through extraordinary athletic achievement and contributions. Whether these activities have been achieved on or off the field, we honor them. And through our future virtual museum we will educate and celebrate their achievements for years to come.
PA STATE HALL OF FAME 2023 INDUCTION CEREMONY is Saturday, October 28, 2023
Carlesimo coached college basketball for 23 years, including 12 in the Big East at Seton Hall University. He lead the Pirates to the 1989 NCAA Championship game & was selected National Coach of the Year. He served USA Basketball numerous times, both as Head Coach & Assistant Coach, including Olympics, World Championships, World University & Goodwill Games. In 1992, he was an assistant for the Gold Medal Team at the Barcelona Olympics, He has coached in the NBA since 1994, serving as Head Coach of the Trail Blazers, Warriors, Supersonics, Thunder and in 2012-13 as interim Head Coach of the Nets. He helped lead the Nets to their first playoff appearance in 6 years and his 4th as a Head Coach. In addition, he has been an assistant for the Raptors & Nets. He served as Gregg Popovich's lead assistant with the Spurs for 5 seasons from 2002-07, winning 3 NBA Championships.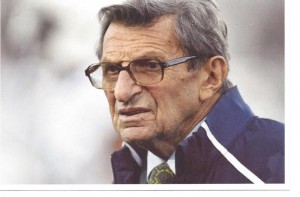 Joe came to Penn State as an assistant coach in 1950, and as Head Coach from 1966 through 2011. He won a record 409 games, 2 National Championships, 27 Eastern or Big Ten Championships, and led Penn State to 5 Undefeated seasons, 23 National Top Ten finishes and an NCAA Record 24 Bowl wins. He coached 48 Academic All-Americans, 79 First Team All=Americans, over 250 NFL Draft Picks, 9 College Football Hall of Famers. He was a 2007 College Football Hall of Fame inductee and Sportrs Illustrated's 1986 Sportsman of the Year; the only college coach ever so honored. His teams consistently posted graduation rates that were among the Nation's best.
Olkewicz started at Phoenixville High School from 1972-75 leading the Phantoms in tackles every year. Named 1st team All-ChesMont LB 2 years, All-State Sr. Year. Played at the University of Maryland as MLB, led Terrapins in career tackles, captain & team MVP Sr. Year. Made several All-American teams. 10 years career with the Washington Redskins, averaged over 100 tackles per year, scored 1 NFL TD. Started at LB 150 games, played in 3 Super Bowls, won 2 rings. Named on the top 70 Redskins of all-time list.
At Lock Haven University, Gray became the best-ever Pennsylvania collegiate wrestler (91-1), a 4-time 115-LB. NAIA Champion & Outstanding Wrestler, a 3-time NCAA Champion and 2-time Outstanding Wrestler. Gray's only loss was to defending NCAA 123-LB Champion (8-7) as a freshman. He was on 2 Olympic teams (1960, 1964); named Amateur Wrestling News #1 lightweight wrestler of all times. A 36 year coaching career including 6 years at LHSC where his teams (59-10) won 2 NAIA team titles. Gray was induced into 7 Halls of Fame, including Lock Haven University, Pennsylvania Wrestling & the National Wrestling Hall of Fame.
Lutz will go down in PA sports history as one of the greatest amateur golfers of all-time. He played for the University of Florida from 1972-74. After Graduation, he was a 9 time Berks County Amateur Champion and won the Philadelphia Amateur in 1977, Philadelphia Mid-Am in 1998 & 2007, the PA Mid-Am in 1999 and the Senior Match Play in 2012 & 2014. Named the Golf Association of Philadelphia Senior Player of the Year 4 times from 2011-2013 and the PA Senior Player of the Year in 2012. He also won both the British Senior Amateur in 2011 & 2012 & the Canadian Senior Amateur in 2011 & 2012 in addition to winning the Silver Medal for low Amateur in the 2012-2013 British Senior Open. Chip was Golfweek Magazines National Senior Player of the Year in 2010 & 2011 and the US Senior Amateur semi-finalist in 2010, 2011 & 2013 – topped only by his finally winning the US Amateur Championship just 3 weeks ago (Oct. 2015).
Fusina capped his senior year at Penn State with multiple 1st team All-American honors, including the Associated Press, United Press International, Walter Camp & Kodak teams. He was the winner of the Maxwell Award (1978) & was a finalist for the Heisman Trophy (1978) as well, thanks to his outstanding athletic & leadership skills. He led the Lions to 27 wins & only 4 loses as a starting quarterback during his career & was elected team captain his senior year. Chuck went on to play professional football for the Tampa Bay Buccaneers (1979-82) and the Green Bay Packers (1986-87). He displayed his Championship form in the USFL, leading the Philadelphia Stars to 3 championship games in 3 seasons, winning USFL titles in 1984 & 1985 while earning MVP honors in the 1984 title game and the Sports News USFL Player of the Year in the same year.
Monessen, Pennsylvania's Eric Crabtree is a former NFL wide receiver. Eric played for the Denver Broncos (1966-68), Cincinnati Bengals (1969-71) and the New England Patriots (1971). His pro totals in 83 games show 164 receptions for 2,663 yards. At the University of Pittsburgh he caught 83 passes for 1,117 yards & 9 touchdowns. He was named a Time, UPI and AP Football All-American. In making the All-State team in high school, Eric in two starting seasons (1960, 1961) rushed for 1,386 yards on 163 carries, garnered 23 touchdowns and scored 115 points. Eric was a consultant when the NFL Players association first organized and went on to become the Bronco's first Player representative.
Bill began his football career at Hopewell High School in Western PA and went on to start at North Carolina University, playing in the Blue-Grey All-Star Game after his senior year. He played 12 years in the NFL with Baltimore (an 8th round draft choice, he, John Unitas and Lenny Moore were the only rookies to make the team), Philadelphia, and 9 years with the St. Louis Cardinals. With the Cardinals, played 120 consecutive games and was twice named to the All-Pro team. Hopewell High School's field house is named in his honor. A Western Chapter and Beaver County Hall of Fame Inductee.
Matt played on several bowl teams for Joe Paterno at Penn State, garnering All-American honors in 1978. After college, Matt played in the NFL from 1979 to 1995; during that time, he played for the Pittsburgh Steelers ('79 to'80), the San Francisco Forty-Niners ('81), the Cleveland Browns ('81 to '89), the New York Giants ('90 to '92), the Philadelphia Eagles ('93), the New England Patriots ('93 to '95). Matt earned two Super Bowl Rings in '80 and '91. He is best known for his record 5 Field Goals in the '91 NFC Championship game, a 15-14 finish. Matt finished his NFL career with 1,422 points.
Kristy Kowal from Reading, PA. Won the silver medallion in the 200m breaststroke at the 2000 Olympic Games in Sydney, Australia. She is a tow-time World Champion and broke 8 American records and 1 World record. First American woman to win the World title in the 100m Breaststroke and to break the 1:00 barrier in the 100y breaststroke. At U of Georgia she won 8 NCAA titles and 10 USA titles, and in 2000 was named NCAA Woman of the Year (for all sports). At Wilson HS she won 16 District and 5 State Gold medals and set the National HS record in the 100 breaststroke.
Best known as Head Coach, University of Pittsburgh, his alma mater, 1982-1985. Coached football four decades – 15 NFL, 21 college and 5 high school. He began a second career in broadcasting for CBS as color analyst for national college games, and then at Pitt until his death in 2009. In 1981, he founded and co-chaired the Foge Fazio/Myron Cope golf event, benefiting autistic children (33 years and still running). Inducted in to Western PA Hall of Fame, Italian/American Hall of Fame and Ambridge Hall of Fame. 1988-2003 Falcons, Jets, Vikings (DC), Redskins and Browns (DC). 1967-1987 Boston Univ., Harvard, Pitt, Cincinnati, Pitt (DC then Head Coach) and Notre Dame. '80 and '81 defense ranked #1 in NCAA.
Return to Inductee at a Glance main page.