For the past 56 years, the Pa Sports Hall of Fame has honored and inducted over 700 incredible men and women who have made a lasting impact in Pennsylvania through extraordinary athletic achievement and contributions. Whether these activities have been achieved on or off the field, we honor them. And through our future museum we will educate and celebrate their achievements for years to come.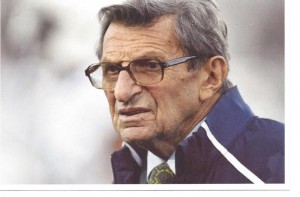 Joe came to Penn State as an assistant coach in 1950, and as Head Coach from 1966 through 2011. He won a record 409 games, 2 National Championships, 27 Eastern or Big Ten Championships, and led Penn State to 5 Undefeated seasons, 23 National Top Ten finishes and an NCAA Record 24 Bowl wins. He coached 48 Academic All-Americans, 79 First Team All=Americans, over 250 NFL Draft Picks, 9 College Football Hall of Famers. He was a 2007 College Football Hall of Fame inductee and Sportrs Illustrated's 1986 Sportsman of the Year; the only college coach ever so honored. His teams consistently posted graduation rates that were among the Nation's best.
Olkewicz started at Phoenixville High School from 1972-75 leading the Phantoms in tackles every year. Named 1st team All-ChesMont LB 2 years, All-State Sr. Year. Played at the University of Maryland as MLB, led Terrapins in career tackles, captain & team MVP Sr. Year. Made several All-American teams. 10 years career with the Washington Redskins, averaged over 100 tackles per year, scored 1 NFL TD. Started at LB 150 games, played in 3 Super Bowls, won 2 rings. Named on the top 70 Redskins of all-time list.
At Lock Haven University, Gray became the best-ever Pennsylvania collegiate wrestler (91-1), a 4-time 115-LB. NAIA Champion & Outstanding Wrestler, a 3-time NCAA Champion and 2-time Outstanding Wrestler. Gray's only loss was to defending NCAA 123-LB Champion (8-7) as a freshman. He was on 2 Olympic teams (1960, 1964); named Amateur Wrestling News #1 lightweight wrestler of all times. A 36 year coaching career including 6 years at LHSC where his teams (59-10) won 2 NAIA team titles. Gray was induced into 7 Halls of Fame, including Lock Haven University, Pennsylvania Wrestling & the National Wrestling Hall of Fame.
Lutz will go down in PA sports history as one of the greatest amateur golfers of all-time. He played for the University of Florida from 1972-74. After Graduation, he was a 9 time Berks County Amateur Champion and won the Philadelphia Amateur in 1977, Philadelphia Mid-Am in 1998 & 2007, the PA Mid-Am in 1999 and the Senior Match Play in 2012 & 2014. Named the Golf Association of Philadelphia Senior Player of the Year 4 times from 2011-2013 and the PA Senior Player of the Year in 2012. He also won both the British Senior Amateur in 2011 & 2012 & the Canadian Senior Amateur in 2011 & 2012 in addition to winning the Silver Medal for low Amateur in the 2012-2013 British Senior Open. Chip was Golfweek Magazines National Senior Player of the Year in 2010 & 2011 and the US Senior Amateur semi-finalist in 2010, 2011 & 2013 – topped only by his finally winning the US Amateur Championship just 3 weeks ago (Oct. 2015).
Fusina capped his senior year at Penn State with multiple 1st team All-American honors, including the Associated Press, United Press International, Walter Camp & Kodak teams. He was the winner of the Maxwell Award (1978) & was a finalist for the Heisman Trophy (1978) as well, thanks to his outstanding athletic & leadership skills. He led the Lions to 27 wins & only 4 loses as a starting quarterback during his career & was elected team captain his senior year. Chuck went on to play professional football for the Tampa Bay Buccaneers (1979-82) and the Green Bay Packers (1986-87). He displayed his Championship form in the USFL, leading the Philadelphia Stars to 3 championship games in 3 seasons, winning USFL titles in 1984 & 1985 while earning MVP honors in the 1984 title game and the Sports News USFL Player of the Year in the same year.
Monessen, Pennsylvania's Eric Crabtree is a former NFL wide receiver. Eric played for the Denver Broncos (1966-68), Cincinnati Bengals (1969-71) and the New England Patriots (1971). His pro totals in 83 games show 164 receptions for 2,663 yards. At the University of Pittsburgh he caught 83 passes for 1,117 yards & 9 touchdowns. He was named a Time, UPI and AP Football All-American. In making the All-State team in high school, Eric in two starting seasons (1960, 1961) rushed for 1,386 yards on 163 carries, garnered 23 touchdowns and scored 115 points. Eric was a consultant when the NFL Players association first organized and went on to become the Bronco's first Player representative.
Bill began his football career at Hopewell High School in Western PA and went on to start at North Carolina University, playing in the Blue-Grey All-Star Game after his senior year. He played 12 years in the NFL with Baltimore (an 8th round draft choice, he, John Unitas and Lenny Moore were the only rookies to make the team), Philadelphia, and 9 years with the St. Louis Cardinals. With the Cardinals, played 120 consecutive games and was twice named to the All-Pro team. Hopewell High School's field house is named in his honor. A Western Chapter and Beaver County Hall of Fame Inductee.
Matt played on several bowl teams for Joe Paterno at Penn State, garnering All-American honors in 1978. After college, Matt played in the NFL from 1979 to 1995; during that time, he played for the Pittsburgh Steelers ('79 to'80), the San Francisco Forty-Niners ('81), the Cleveland Browns ('81 to '89), the New York Giants ('90 to '92), the Philadelphia Eagles ('93), the New England Patriots ('93 to '95). Matt earned two Super Bowl Rings in '80 and '91. He is best known for his record 5 Field Goals in the '91 NFC Championship game, a 15-14 finish. Matt finished his NFL career with 1,422 points.
Kristy Kowal from Reading, PA. Won the silver medallion in the 200m breaststroke at the 2000 Olympic Games in Sydney, Australia. She is a tow-time World Champion and broke 8 American records and 1 World record. First American woman to win the World title in the 100m Breaststroke and to break the 1:00 barrier in the 100y breaststroke. At U of Georgia she won 8 NCAA titles and 10 USA titles, and in 2000 was named NCAA Woman of the Year (for all sports). At Wilson HS she won 16 District and 5 State Gold medals and set the National HS record in the 100 breaststroke.
Best known as Head Coach, University of Pittsburgh, his alma mater, 1982-1985. Coached football four decades – 15 NFL, 21 college and 5 high school. He began a second career in broadcasting for CBS as color analyst for national college games, and then at Pitt until his death in 2009. In 1981, he founded and co-chaired the Foge Fazio/Myron Cope golf event, benefiting autistic children (33 years and still running). Inducted in to Western PA Hall of Fame, Italian/American Hall of Fame and Ambridge Hall of Fame. 1988-2003 Falcons, Jets, Vikings (DC), Redskins and Browns (DC). 1967-1987 Boston Univ., Harvard, Pitt, Cincinnati, Pitt (DC then Head Coach) and Notre Dame. '80 and '81 defense ranked #1 in NCAA.
After a stellar high school career Debbie went on to a record-setting career at St. Joseph's University. She led the Lady Hawks to 2 Big Five titles and an Atlantic 10 title. Debbie won 12 varsity letters in basketball, field hockey and softball. She was the all-time assist leader at 718 and all-time steals leader at 572. In 1988 Debbie was named All-District and All-Atlantic 10 First Team. In 1987 she was All-Atlantic 10 second team. In 1986 she was named to the All-Atlantic 10 Rookie team. From 1989-1996 she played for the Hobart Islanders of the Australian League. From 1996-1998 she played for the Colorado Xplosion of the American Basketball League. From 1999-2005 Debbie played for the Utah Stars, Miami Sol, Sicilian Professional team, and Connecticut Sun of the WNBA. In 2001 Debbie was named WNBA's Defensive Player of the Year. When she retired from the WNBA, Debbie was ranked 8th in steals (315), 10th in assists (612), and first in career steal to turnover ratio. Currently, Deborah is head coach of women's basketball at Eastern Illinois University.
Joe was the head coach of the Harrisburg Bishop McDevitt high school girls' basketball team from 1976 to 1986 compiling an overall record of 238 wins versus 40 losses. Joe's Bishop McDevitt teams captured 8 conference titles, 5 district titles, reached four consecutive Eastern finals and played in two state championships games. Joe finished his career at Bishop McDevitt with 76 consecutive regular season wins. Joe then moved on to Bloomsburg University where he coached the women's basketball team from 1986 to 1993 compiling an overall record 175 wins versus 47 losses. Joe's Bloomsburg teams captured 6 conference titles, 1 PSAC championship, 1 Regional Championship and participated in four NCAA tournaments. Joe's 1988-1989 team became the first NCAA Division 2 women's team to go undefeated compiling a record of 26 wins versus 0 losses; Joe's 1990-1991 team compiled a record of 25 wins versus 0 losses. Joe was named conference coach of the year 3 times. Joe then moved onto Lycoming College where he coached the men's basketball team from 1994-2000 compiling an overall record of 97 wins versus 53 losses. Joe was twice named Middle Athletic C conference coach of the year, and two of his Lycoming College teams participated in the NCAA tournament. Joe's overall head coaching record is 510 wins, versus 140 losses for a winning percentage of 78.6.
John won ten letters as an athlete at Sharon Hill High School, and was All-County in football, basketball, and baseball during his senior year. He followed All American and Heisman Trophy winner Roger Staubach as the quarterback at the U. S. Naval Academy (1965-67) and set 12 individual records during his career, including most yards in total offense in a game, season, and career; most passing yards and completions for a season and career; and most touchdown passes for a career. John was voted the Associated Press "Back of the Week" twice during his senior year and was the starting quarterback in the North-South All Star game that same year. After being commissioned in the U. S. Navy, John served five years as a Surface Warfare Officer aboard two different destroyers including one deployment to Viet Nam. Following his Navy duty, he became assistant football coach at Liberty University (1973) and then was their head coach for three years (1974-77). In 1976, upon completion of his seminary training, John was ordained to the ministry and is the founder and pastor of the Calvary Independent Baptist Church in Morton, PA 19070 (1977-present).
Myron Cope spent 35 years as radio broadcaster for the Pittsburgh Steelers, the longest continuous tenure in NFL history. He invented the "Terrible Towel," which has raised over $3 million for the Special Needs Children's Charity. Myron was awarded the E.P. Dutton Prize for "Best Magazine Sports Writing in the Nation" in 1963, and an "Emmy" Award for Lifetime Achievement. He was the first football announcer elected to radio's Hall of Fame in 2005. He was awarded the "Pete Rozelle Radio-TV Award" for exceptional contributions to Pro Football in 2005. Myron was a "Special Contributor" to Sports Illustrated Magazine and named "Noted Literary Achiever" by the Hearst Corporation 1987. Myron passed away in 2008.
Bob Donato has been one of the most outstanding college officials in the United States for the past 35 years. He officiated in 22 consecutive NCAA Tournaments including five Final Fours. Bob began his career as an official in 1976 and retired in 2012. He was a member of 11 basketball conferences including the Big East, ACC, Big 10, Sec, A-10, MACC and ECAC. He has worked the finals in the Big East, A-10, MACC, ECAC and the NIT. Bob has worked a major college schedule until retiring in 2012. In 2004 he received the Naismith Men's Official of the Year Award at their Atlantic Tip Off Club. Bob was also an outstanding basketball player and served as captain of the Penn State University Team.
Harry began his major league baseball broadcasting career in 1965 and joined the Philadelphia Phillies broadcasting team in 1971. He continued 38 years with the Phillies until he passed away in the press box in Washington DC in 2009. He broadcast the first game (1971) and the last game (2003) at Veterans Stadium, then called the first game at Citizens Bank Park (2004). He broadcast six no-hitters, called six National League Championship Series and three Phillies World Series. He was the Ford C. Frick Award winner at the Hall of Fame in Cooperstown in 2002, named Pennsylvania Sportscaster of the Year 18 times and was Broadcast Pioneers of Philadelphia Person of the Year in 2004. He was also the main voice of NFL Films for 25 years.
This 91-year-old WWII veteran was one of the best distance runners in the world throughout the 1940's. At Boyertown High School, he won 6 Pennsylvania State Championships in cross-country and track. At Penn State, he won the IC4A Cross Country title as a freshman and was a member of the first Penn State team to win an NCAA championship – the 1942 cross country team. His career was interrupted by service in Italy with the U.S. Army Air Force during World War II. In 1944 he won the Mediterranean Theater 1500-meter championship. After the War in Europe ended in 1945, he won the Allied Forces European-Mediterranean 1500-meter championship in Victory Stadium, Frankfurt, Germany, running in front of General George S. Patton and other leading Allied Generals. Returning to Penn State, he won the IC4A, NCAA, and National AAU mile titles in 1947. At that time he was only the second athlete ever to win all three mile championships in the same year. A member of the 1948 US Olympic team, he was inducted into the Boyertown High School, Berks County Sports, Penn State Track & Field and the National AAU Track & Field Halls of Fame.
John M. "Jackie" McDonald
One of the greatest backs in Muhlenberg football history, Jack will always be distinguished as the first Mule to win the prestigious Maxwell Award as Eastern College Football Player of the Week and only Mule to win it twice. McDonald won honors in 1953 following a 2 touchdown performance in 20-7 win over Lafayette and again in 1955 after rushing for 127 yards to lead Muhlenberg past Temple, 7-6. Jack was a four-year starter in football, and was team MVP three seasons. He ranks among Muhlenberg's top all-time rushers with 1,300 total yards. He led in rushing as a sophomore and senior and had six multiple-touchdown games during his career. During his junior season, McDonald was written in Collier's Magazine as one of the outstanding small college players in the nation. As a senior, Jack was named to All-State and All-East teams. Jack was inducted into Muhlenberg's Sports Hall of Fame. He also received letters from many NFL teams. During his high school years at Pottsville High School, John was named to the All Southern Conference team, All State and National All American teams. He scored the second highest amount of points in track history and holds the 180 yard low hurdle record of 20.3 seconds. John was inducted into Pottsville High School's Hall of Fame.
Robert earned 11 varsity letters – track, basketball, baseball, threw shot put & discus. He played on Palmerton League's State Championship team. He was basketball captain three years, earning four letters. He made the All-Lehigh Valley 1st team three years and the All-State 1st team AP-UPI two years. They were Lehigh Valley League Champs three years with 44 straight victories. In 1956 he was State runner-up to Farrell-leading male scorer in Palmerton history (1975 points). Robert was selected to play in the National High School All-Star game in Kansas City-1957 and named Parade High School All-American. Robert had 85 scholarship offers. He attended the University of Pennsylvania and was basketball captain two years, MVP two years. He was twice named All Ivy League 1st team and All Big Five 1st team. He was All East his senior year. Robert was drafted by the Cleveland Pipers (ABA), spending two years in the Eastern Pro League (Easton & Wilkes-Barre). Robert coached at Palmerton High two years. Robert has been inducted into numerous Halls of Fame.
On May 13, 1952, Ron Necciai of Gallatin PA., pitching for the Bristol (VA) Twins against the Welch (VA) Miners in the Appalachian League, became and remains the only man in professional baseball history to strike out 27 batters in a nine-inning game. The National Association of Professional Baseball Leagues called the 27 strikeout game, "The greatest individual performance in the history of baseball." Baseball Today calls it professional baseball's "unreachable stat." In his next start, Ron who also pitched for the Pittsburgh Pirates, struck out 24. Major League Baseball's Power Ratings of Top 10 curveballs rates Ron at Number 6. First of only two known professional pitchers to strike out five batters in one inning. Quoted by Branch Rickey to be one of three greatest pitchers he ever saw along with Dizzy Dean and Christy Mathewson. Ron was on the North State and Carolina League All Star teams and voted People's Choice Player in the Carolina League. He led the league with 172 strikeouts in 126 innings and had an E.R.A. career average of 11 plus strikeouts per 9 innings. He was honored by Washington Green and Mid-Mon Valley Chapters of the Pennsylvania Sports Hall of Fame, the Ringgold High School Hall of Fame and the Italian Heritage Society.
Lance Rautzhan was born and raised in Pottsville, Pennsylvania. He was a three sport standout at Blue Mountain High School. Lance was offered a full athletic football scholarship to the University of Kentucky; when drafted in the third round pick for the Dodgers in 1970 (drafted right out of high school after he pitched a perfect game), decided to play baseball. He played 7 ½ years in the Dodger minor league system and had the most complete games in the AA Eastern League for a single season in 1975. In 1976 he made the AAA Pacific Coast League all-star team. Lance was brought up to the big leagues where he played the position of a left-handed relief pitcher for the Los Angeles Dodgers and the Milwaukee Brewers. While playing with the Dodgers in 1978, Lance was the winning pitcher for the third game against the Phillies in the National League playoffs. Lance pitched with the Dodgers in the 1977 and 1978 World Series against the NY Yankees. Lance left baseball in 1981.
Joe was Philadelphia Golden Gloves Heavyweight Champion, Middle Atlantic Golden Gloves Heavyweight Champion & 1964 Olympic Gold Medalist before becoming the undisputed WBA Heavyweight Champion of the World. He defended his title 6 times including "The Fight of the Century" when he defeated Muhammad Ali. He was named by Ring magazine as one of the "Top 80 Fighters in the last 80 years" & one of "100 Greatest Punchers." ESPN.com named him one of the "50 Greatest Fighters of All-Time". He was inducted into the International Boxing Hall of Fame in 1990.
Campbell was a 4 sport star at Homestead H.S. 3 year Letterman-Football/Lacrosse at the U.S. Naval Academy, ('64); 1st team football All-East and Honorable Mention-All-American; Played in the National Championship game vs. Texas in the Cotton Bowl and in the All-American All-Star Game; Played varsity basketball and was on 3X National Champion Navy Lacrosse teams – '64 Schmisser Award winner as Best Lacrosse Defensemen in the Country. Described by Steve Belichick, 3 year assistant football coach/scout, as "best athlete he had even seen in the Academy". Distinguished career as F-4 pilot, TOP GUN; 2 tours of duty in Vietnam. Jim passed away in March, 2006.
3 Sport star at Pottstown, led basketball team in rebounding and scoring, 36-12 record. Led baseball team batting .438, undefeated season ChesMont champs. Set numerous football passing records, accepted full scholarship to Penn State, played in Big 33 Game. Started 2 years at QB at Penn State, 22-2 record, undefeated 12-0 Jr. Year, won 2 Bowl Games, MVP of Orange & Cotton Bowl games. Held passing records over 30 years, 2nd all-time passer rating 136.68. Record 28 TD's for single season. "One of the best QB's I ever coached" said Joe Paterno. Drafted by Cincinnati Bengals, played in Canadian Football League for 3 years.
3 sport star at Pottstown, Football, Basketball, Track. Led teams to many Championships, still holds school records. Considered one of the best "All Round" athletes at Pottstown. Full scholarship to West Virginia football, 3 year starter, led NCAA in interceptions with 10, 1st Team All-Big East, All-American, Playboy Magazine, Jim Thorpe finalist. Finished with 19 interceptions, 143 tackles, 3 TD's at West Virginia. Inducted WVU Hall of Fame. Selected 3rd round by Jacksonville. 6 interceptions, 2 TD's rookie season. Played from 1996-2004 in NFL. Played 121 games, 24 interceptions, 423 tackles, 81/2 sacks.