For the past 60 years, the Pa Sports Hall of Fame has honored and inducted over 753 incredible men and women who have made a lasting impact in Pennsylvania through extraordinary athletic achievement and contributions. Whether these activities have been achieved on or off the field, we honor them. And through our future virtual museum we will educate and celebrate their achievements for years to come.
Arthur J. Rooney Jr. is the second son of Arthur J. Rooney, founder of the Pittsburgh Steelers. He played football at North Catholic High School and St. Vincent College. He began his employment with the Steelers in 1961 and from 1966 until 1987 oversaw the Steelers scouting department. During that time the Steelers won four Super Bowls and was voted the NFL 1970s "Team of the Decade." Nine players drafted during that period became pro football Hall of Famers. He has been nominated 8 times to join his players in the pro football Hall of Fame.
She was a four-year starter on Nazareth Academy's basketball team that won three consecutive championships from 1962-64 when she led the team in points and rebounds her senior season. Her teams won three consecutive championships from 1962-64. She was the leading scorer and rebounder her senior year.
At Temple University, Murphy earned eleven varsity letters in field hockey, basketball, and lacrosse and earned a Bachelor's Degree in Health & Physical Education. She was a member of the Lady Owls basketball team from 1965-1968 and led the team in scoring her senior and junior seasons. Murphy was also a member of Temple's lacrosse (1966-68) and field hockey (1966) teams. She was awarded the Women's Athletic Association (WAA) Blazer Award as the most outstanding female athlete, and also served as president of the WAA for three years (1966-68). Murphy's academic honors at Temple include the President's Scholar and the College of Education Awards. She was inducted into Temple's Sports Hall of Fame in 1985.
At Neshaminy High School, where she coached the field hockey team for nineteen seasons and amassed a record of 259-52-29. Her team won 11 consecutive league championships, a District 1 Championship in 1983, and two PIAA state championships in 1983 and 1990. Stearing the softball team, Murphy bolstered a record of 140-63 and won 2 league titles in 1976 and 1980. She was named Coach of the Year in field hockey five times and in softball twice by the Bucks County Courier Times and earned the Gold Medal Award for coaching from Scholastic Coach. She was appointed as the assistant principal in charge of athletics in 1993, a position she held until retirement in 2007. Murphy also coached basketball at Neshaminy and Little Flower High Schools, as well as the collegiate level at Beaver College (now Arcadia University) and Penn State Ogontz. Her softball team's record was 140-63 and won 2 league titles in 1976 and 1980.
She was named Coach of the year and Field Hockey five times and softball twice by the Bucks County Courier Times. Gold Medal Award for coaching from Scholastic Coach. Inducted into Neshaminy High School Sports Hall of Fame, Temple University Hall of Fame and the Philadelphia All Stars Hall of Fame.
As a senior at Cathedral Prep in Erie, he was named team captain and was chosen First Team All-State as he led the Ramblers to the state championship game. His #20 was retired by the school in 2007. At Iowa he was named to three All-Big 10 teams and was a Second Team All-American as a senior. Played in the Senior Bowl and won numerous college awards. Drafted by the Indianapolis Colts in the second round of the 2004 NFL Draft. He was named AP NFL Defensive Player of the Year in 2007, the first Colt to win the award. Was an integral part of the Colts' defense that led the team to a victory in Super Bowl XLI against the Chicago Bears. Also played for the San Diego Chargers.
Wil Robinson was a high school All-American and led Laurel highlands to the 1968 PA State Championship. He tallied 1,841 points in high school. In 1972, he had the highest season scoring average in WVU history (29.4), breaking a record set by Jerry West. Robinson scored 1,850 points at WVU, trailing West (2,309), Rod Hundley (2,180), and Da'Sean Butler (2,095). He holds the WVU Coliseum record for points in a game by a Mountaineer player (45 vs. Penn State in 1971). He was named 1st team All-American by Basketball Weekly, United Savings and Helms Foundation. Played in the ABA.
Wil Robinson hasn't played basketball in a long time, but the former Laurel Highlands High School star hasn't been forgotten.
Robinson was surprised when he was notified that he had been elected for induction into the first class in the Fayette County Sports Hall of Fame.
Wil Robinson
Robinson was also a star at West Virginia University and was inducted into the WVU Hall of Fame in 1997 and the western chapter of the Pennsylvania Sports Hall of Fame in 2005, but he feels this latest honor is very special.
"This is home and it means a lot to be recognized where you grew up," he said.
Robinson's credentials are impressive. He was a high school All-American with a 30-point scoring average and led Laurel Highlands to the 1968 Pennsylvania state championship.
Robinson played in the 1968 Dapper Dan Roundball Classic and scored 20 points as the Pennsylvania stars fell to the United States All-Stars 103-90.
During his playing career at West Virginia he garnered All-America honors during his senior season in 1972 when he forged the highest season scoring average in WVU history when he scored 706 points in 24 games (29.4), breaking a record set by Jerry West. The flamboyant Robinson scored 1,850 points in his career, trailing only All-Americans West (2,309) and Rod Hundley (2,180).
He holds the WVU Coliseum record for points in a game by a Mountaineer player (45 vs. Penn State in 1971). In fact, Robinson owns six of the Mountaineers top seven all-time single game scores at the Coliseum.
Looking back, the Laurel Highlands state championship still stands out for Robinson.
"That's a highlight that you can't forget," Robinson remembered. "It is hard to beat as far as being the number one thing in your career unless you take an NBA championship or NCAA championship. The run to the state championship was something I'll never forget."
What made it so special was the way the community was caught up in the championship run and the great rivalry with Uniontown High School that made the whole town hoop crazy.
"You don't see that too much anymore," Robinson explained. "The whole town was caught up in it and for us to take the championship — you look back and you say, 'Did we really do that?' We went all the way and we won everything and that's something that's hard to do."
Harold "Horse" Taylor was the architect of the Laurel Highlands basketball program and played a big role in Robinson's development on and off the court.
"That is the bread and butter and that's what makes you and breaks you after leaving high school," Robinson said. "Either you've got it or you don't and the high school coach is so important in developing people. Not only the basketball skills but the people skills and how you treat people and how you respond to pressure and how you respond to adversity and Horse taught us all that.
"He wanted to make sure that I got into college and that was most evident. He was concerned about basketball, but that wasn't his main priority, it was to make sure that I grew up to be a man and carried responsibility and go on from there."
When he ponders his career at West Virginia, Robinson sees unfulfilled promise. The 1971-72 squad got off to a 6-0 start before a terrible traffic accident involving players Larry Harris and Sam Oglesby ended their hopes for a great season.
Robinson is mentioned in the same breath in the record book at WVU with Jerry West and Rod Hundley and that is special.
"I didn't go there trying to break records, I didn't go there trying to be the number one scoring leader," Robinson said. "I just went there to play basketball and do the best I could. When it all ended and I was number one in some categories and hold some records there I was just happy to be mentioned with the likes of Jerry West and Hot Rod Hundley."
Following his college career, Robinson was selected in the fourth round of the NBA draft by the Houston Rockets and the fourth round of the ABA draft by the Pittsburgh Condors. He played one year in the ABA (1974) with Memphis and Utah.
"It was a disappointment because politics played a role in my pro career," Robinson lamented. "That caused me to end my career short. When I was with Houston I had actually made that team, but due to political reasons they wanted to keep an older player; they kept him as a player-coach for pension reasons and that took my spot and when they did that the season was getting ready to start the next day and all the rosters were filled and I couldn't get picked up.
"I had to leave basketball and once I did that it was an uphill battle just to get back to the ABA. Once I got back into the ABA and things were going good the leagues merged. I was starting in Memphis and that summer they merged and I had to make a decision. Was I going to keep on going? I just didn't have it in me and I decided to go back to school. I made a decision on what I wanted to do in life. Am I going to be a basketball traveling bum or am I going to try and get my education and do something with it?"
Robinson returned to WVU to complete his bachelor's degree in 1975 and eventually finished his master's degree in safety in 1984.
Robinson, 59, and his wife, Pam, were married in 1987 and they have one son, 18-year-old Lance. Robinson is working for a company called The Shoe Show and is the district manager for 16 stores in western New York.
Coach Jerry Conboy received the 2009 Pittsburgh Sports Legends award for his lifetime achievement as a basketball coach with 800 wins in a fifty-year career. At South Hills Catholic HS. (1956-1967) he had a 203-46 record. He won four league championships, 2 state championships, 4 Coach of the Year awards, and was selected to coach the first two Roundball Classics. At Point Park College (1969-1989) he had 305 wins including 14 consecutive NAIA District 18 playoffs, 12 Championship wins, 2 District Championships and 3 NAIA National Tournaments. He returned to coach three WPIAL schools to 196 wins, 2 section championships, and 1 WPIAL title. He is in the Western Chapter, Point Park University, and South Hills Catholic Halls of Fame.
Elected to the College Football of Fame in 2015. Former Marshall quarterback and won the Walter Payton Award in 1992. First player to earn National Player of the Year and Male Athlete of the Year. Set FCS national record in 1991 for highest single-season pass efficiency (181.3) and most yards passing in a half when he threw 383 yard in first half against VMI. Inducted into Marshall Athletic Hall of Fame in 1999. Spent two seasons with Saskatchewan Roughriders of CFL.
Joe played on two undefeated John Harris High School teams and was a major contributor to the Gettysburg College 1966 University Lambert Cup Team. He was named the MVP of the Mid-Atlantic Conference, University Division, and was the only player in conference history to be named first team offense and defense in the same season. Joe was named to the Associated Press Little All-American First Team; Kodak All-American, First team; The Lutheran College All-American, first team; and the All-Pennsylvanian First Team. He played professionally with the Dallas Cowboys, Washington Redskins, Boston Patriots and the Hamilton Tiger-Cats. He was inducted into The Capital Area Chapter (1992), Gettysburg College (1991), and John Harris High School (1963) Halls of Fame
Coached University of New Hampshire football for 27 years . . . 175 wins, most in Yankee Conference history and top 25 in FCS history . . . claimed four conference and three division titles . . . four-time YC, three-time American Football Coaches Association District I and two-time New England Coach of the Year . . . helped 1975 team to Division II semifinals . . . earned four NCAA Tournament bids . . . 2002 New England Football Writers Contribution to Football award . . . mentor and college coach of Eagles' coach Chip Kelly . . . 1964 Penn State captain . . . played in 1964 Blue-Gray Football Classic . . . 2000 PSU Alumni Athlete Award . . . Quarterback of undefeated 1960 Lock Haven HS team and played in the 1961 Big 33 game . Elected to College Football Hall of Fame 2016.
1956 1st Team National High School All-American Football at Centerville H. S. (Beth-Center); Scholastic Magazine All-American; 4X All WPIAL; 2X winner-Thom McAn Bronzed Shoe Award; PA Big 33 All Star selection; PIAA shot put and discus records; Recruited by 135 colleges, attending Penn State. Broke all rushing records w/ undefeated freshman team-scoring 6 td's in game vs. Navy Plebe team featuring their future Heisman Award winner, Joe Bellino.
Penn State established the "Red Worrell Memorial Award" following his accidental death at home, 1957. Inducted into the Washington-Greene Hall of Fame in 1998 and Mid-Mon Valley Chapter Hall of Fame in 2007.
Pennsylvania's all-time winningest high schoolboy's basketball coach with 852 career wins in 41 years at Loyalsock Township HS . . . has won 19 district titles . . . led team to three PIAA state Eastern finals . . . 1993 state runner-up . . . helped team to 26 conference titles . . . helped Lancers to 35 20-win seasons . . . coached girls' basketball team at LTHS for four years (1975-78), leading team to two district titles, four conference titles and state quarterfinals in 1978 . . . one of two high school coaches in Pennsylvania history to win 900 basketball games.
Harter graduated from the Hill School in 1948 after a distinguished athletic career. He played basketball at the University of Pennsylvania for 3 years. He was the Head coach at Penn and received Coach of the Year in 1970-71 season. Then was named Coach of the Year at Oregon in 1976. He also coached at Penn State and Rider and went on to be Chuck Daly's top assistant with the NBA Champion Detroit Pistons. First head coach of the Charlotte Hornets and also was an assistant coach for Indianapolis Pacers and the Philadelphia 76ers. Had a 30+ year coaching career and was regarded as having a "great defensive mind."
Sam "The Jet" Jethroe was a center fielder in the Negro League and Major League Baseball. While with the Cincinnati and Cleveland Buckeyes he won a pair of batting titles, hit .304 over seven seasons from 1942 to 1948, and helped the team to two pennants and the 1945 Negro World Series title. He was the fifth African-American played in history to play in the major leagues and was named the National League's Rookie of the Year in 1950 (oldest player ever to achieve that honor) with the Boston Braves. Jethroe led the NL in stolen bases in his first two seasons. He was called "the quickest human being I've ever seen" by former minor league teammate Don Newcombe.
The name Fred Biletnikoff is still synonymous with National Football League greatness. He is a member of both the Pro Football Hall of Fame (1989) and the College Football Hall of Fame (1991). The 14-year veteran of the Oakland Raiders caught nearly 600 passes during his career - an era when teams played 14-game regular seasons and emphasized rushing over passing - and was named All-Pro half a dozen times. He was also honored as the MVP of Super Bowl XI. John Madden once called Biletnikoff "the best pure pass receiver I have ever seen." He was the first consensus All-American to play for Florida State. At FSU, Biletnikoff played on both sides of the ball and once returned an interception 99 yards for a touchdown, a record which stood until 1987 when another NFL Hall of Famer, Deion Sanders, broke it by one yard. The Fred Biletnikoff Award, given annually since 1994 to the best wide receiver in college football, was named in his honor. In 1999, Biletnikoff was ranked #94 on "The Sporting News" list of the "100 Greatest Football Players." During his high school career, he s All-City in both football and basketball at Tech Memorial, now Central Tech, whose athletic Field now bears his name. He later joined other Pa. high school football greats - Mike Ditka, Tony Dorsett, and Joe Montana - on Pennsylvania's all-time first team.
One of the finest kickers in Penn State history, Craig Fayak ended his career as Penn State's all-time leading scorer with 282 points and 50 field goals -- records that held until the 2007 season. He is probably best known for his 34-yard field goal with four seconds left that gave 18th-ranked Penn State a 24-21 victory at top-ranked Notre Dame in November 1990 - and enjoyed big games against Alabama (3 fields goals in 9-0 win in 1990) and against Pitt and West Virginia (combined 11 for 11 in field goals against these two rivals). He graduated with a 3.5 GPA and was named a CoSIDA Academic AII-American while also being awarded the prestigious Big Ten Medal (awarded to two student-athletes from each Big Ten University who "attained the greatest proficiency in athletics and scholastic work") and John W. Oswald Award (one of five students chosen for "outstanding student leadership and excellence"). He was also named to the Athlon Sports Magazine "All Time Penn State Team." Prior to Penn State, Craig starred at quarterback, kicker, punter, and safety at Belle Vernon Area High School- where he threw for more than 2,000 career yards, rushed for 500 more, kicked 21 field goals and scored 266 points, and helped lead his team to consecutive Big 9 Conference titles. He was selected to play in the 1990 Big 33 Football Classic in Hershey, PA and kicked 6 extra points in Pennsylvania's 42-28 victory over Maryland. Craig was also an outstanding shortstop and pitcher in baseball, being named conference MVP and to the Pittsburgh Post Gazette's AII-WPIAL Team in 1990. He helped lead the team to a Section 2 championship as a senior. He was the youngest player to be selected for the Pennsylvania American Legion East/West All Star Classic (1986). Following his Penn State career, Craig was on pre-season rosters for three NFL teams (Dallas, Miami, and Jacksonville). He continues to instruct high school kickers and lives in Bernardsville, New Jersey, with his wife Nicole and son Eli.
Larry Kelley played college football as an end at Yale University. While at Yale, he was named MVP of the East-West Shrine Game and won the Heisman Trophy in 1936, the year it was renamed in honor of John Heisman. He finished a three-year career with 49 catches for 889 yards and 13 touchdowns. Kelley was inducted into the College Football Hall of Fame in 969. Kelley was an All-American and the captain of the Yale football team. Following his career at Yale, he signed a one-game contract with the Boston Shamrocks of the American Football League in 1937 but never played. He also turned down offers to play in the NFL (Detroit) and in MLB (New York Yankees). After his career in football, Kelley was a history teacher and alumni director at the Peddie School in Hightstown, New Jersey, his alma mater. The Ian Graham Athletic Center at the Peddie School holds a replica of the Heisman Trophy donated to the school by Kelley. To benefit his nieces and nephews, Kelley sold his Heisman Trophy at an auction in December 1999 for $328,110 to the owner of The Stadium Museum, Restaurant & Bar in Garrison, New York, where it now resides. He was 85 when he died in 2000.
Bob Kuberski was a three-year starter at defensive tackle for Navy from 1990 to 1992. He was twice chosen to the All-East First Team. He's a member of the Navy Sports Hall of Fame and was selected to the Navy-Marine Corps Memorial Stadium All-Time Team. Among those on that team are Roger Staubach, Joe Bellino, and Napoleon McCallum. Kuberski was drafted by the Green Bay Packers in 1993. He served on active duty as an Ensign in the United States Navy for two years prior to starting his NFL career. Kuberski played nose tackle for the Packers from 1995-1998 and was a member of Green Bay's Super Bowl championship team in 1997 (def. New England 35-21) and NFC championship team in 1998. He closed out his NFL career in 1999 with the New England Patriots. Bob is also a member of the Delaware County Chapter of the Pa Sports Hall of Fame.
William "Red" Mack actually began his football career at st. Paul's Orphanage in suburban Pittsburgh when a nun told him to get a football uniform. He went on to play wide receiver and half-back in the National Football League for the Pittsburgh Steelers, the Philadelphia Eagles, and the Green Bay Packers. He ended his National Football League career as a Super Bowl champion. Mack played only one season with Green Bay, concluding his six-year professional career in January 1967 with the Packers' 35-10 victory over the Kansas City Chiefs in the first-ever Super Bowl. Mack played in eight regular-season games as the Packers dominated the NFL with a 12-2 record. They defeated the Dallas Cowboys, 34-27, in the NFL Championship Game, to advance to face Kansas City in the Super Bowl. Mack recorded a Super Bowl first, making the initial Green Bay tackle in the Los Angeles Memorial Coliseum. He totaled two tackles in the game, contributing to a Green Bay victory and earning a Super Bowl ring. He played college football at Notre Dame where he was a pre-season All-American in 1960. Mack was drafted by the Pittsburgh Steelers in the 10th round of the 1961 NFL Draft. He was also drafted by the Buffalo Bills in the 23rd round of the 1961 American Football League Draft. Red was a football, basketball, and track star at Hampton (Pa.) High School. He led the WPIAL in scoring in 1954 and 1955 and was named MVP. He spent his senior year at Bullis Prep School and was chosen Player-of-the-Year by the Washington, D.C. Touchdown Club.
One of Temple's most versatile athletes, Monica Mills was inducted into the Temple University Hall of Fame in 1997. She earned numerous honors in field hockey and lacrosse. She was awarded four varsity letters in field hockey and was the team's MVP in 1984.
Mills was selected for the National and Regional All-American teams in 1984 as Temple finished fourth at the NCAA field hockey championships. She scored 161 points (68 goals, 25 assists) in field hockey for the third highest total in Temple history.
In lacrosse, she also received national and regional All-American honors in 1984 while helping the Owls to the 1984 NCAA championship. Mills was the recipient of the Charlie Johnson Award as Temple's outstanding athlete in 1985 and was named the Philadelphia Inquirer Intercollegiate Athlete-of-the-Year that same year.
She was also was an award-winning all-around athlete at Neshaminy Langhorne High School and was inducted into that institution's Hall of Fame for field hockey in 1992, softball in 2000, and basketball in 2006.
Joe Moore was, perhaps, the finest offensive line coach in collegiate football history. He coached at Pitt from 1977-85, developing football All-Americans and Hall of Fame linemen Bill Fralic, Mark May, Russ Grimm and Jimbo Covert before moving on to coach at both Temple and Notre Dame. "He was such a great recruiter in Pennsylvania and then he shifted to offensive line and he was such a tremendous coach. He was such an innovator in terms of technique," said Foge Fazio (2015 Pa Sports HOF inductee), who coached with Moore for nine years at Pitt. A graduate of Schenley High School and Penn State, Moore enjoyed outstanding success at the high school level, going 55-19-1 at McDowell (Erie) and winning back-to-back WPIAL co-championships at Upper St. Clair (Pittsburgh) in 1975 and 1976. He also was an assistant coach at Cathedral Prep (Erie) in his later years. In his 17 years as a high school coach, Moore compiled a 119-32-4 record. When he left Upper St. Clair in 1976, Moore took a job as an assistant coach at Pitt in 1977. After three years of instructing running backs, he moved to the offensive line. Upon being inducted into the College Football Hall of Fame in March 2003, Covert credited Moore with his development. "I was fortunate to play with a lot of great players, and I was also associated with a lot of great coaches like Joe Moore, who is the greatest line coach of all time," said Covert, who played for the Panthers from 1978-82. A 1984 Sports Illustrated article called Mr. Moore "the best line coach in college football. "After leaving Pitt in 1985, having worked under head coaches Johnny Majors, Jackie Sherrill and Fazio, Moore was named offensive line coach at Temple on July 31, 1986. In early 1988, Lou Holtz hired Moore to coach Notre Dame's tight ends and tackles. He was part of the Fighting Irish team that won the 1988 national championship. Moore died in July 2003 after a year-long battle with cancer.
Charlene Morett-Curtiss is both a United States Field Hockey Association (USFHA) and a National Field Hockey Coaches Association (NFHCA) Hall of Fame Inductee. As she approaches 500 wins, more than 450 of them at Penn State, she is the longest tenured coach in the Big Ten. She has taken the Nittany Lions to the NCAA Tournament 25 times in her 29 years at the 1 helm. PSU reached the title game in 2002 and 2007 and reached the semifinals in 1990, 1991, and 1993. Her teams have accrued seven Big Ten Titles. She has been voted the Mideast Region Coach-of-the-Year seven times, the Atlantic 10 Coach-of-the-Year in 1989, and the Big Ten Coach-of-the-Year five times. She, herself, was a three-time All-American at PSU and was captain of the undefeated 1978 team. Morett-Curtiss also earned All-American honors in lacrosse, winning two National Championships for Penn State and was MVP of the 1979 NCAA Tournament. She was on the 1980 U.S. Olympic Team which boycotted the Moscow Olympic Games. She was also a member of the 1984 Olympic Field Hockey Team which earned a Bronze Medal at the Games in Los Angeles. She is a graduate of Lansdowne-Aldan High School and is a member of the Delaware County Hall of Fame.
James Mungro played five seasons for the Indianapolis Colts of the NFL and became the sixth Colts' rookie with 100+ yards in his first start. In 2003, he totaled three rushing touchdowns against Tampa Bay as Indy erased a 35-14 deficit in the last four minutes in an eventual 38-35 OT win. The next season, he caught two of Peyton Manning's record-breaking 49 touchdown passes, including the record-tying 48th against San Diego. He got a Super Bowl ring when Indy won Super Bowl XLI.
He was a four-year letterman at Syracuse and had his best year as a senior, running for 1,170 yards and 14 rushing touchdowns. His 2,984 rushing yards and 29 rushing touchdowns were both second all-time at Syracuse. Mungro was named Music City Bowl MVP with 162 yards (including a career-long 86 yard burst) and two touchdowns versus Kentucky. He was chosen Insight.com Bowl Offensive Player-of-the-Game for totaling 112 yards in a victory over Kansas State.
He attended East Stroudsburg South High School where he set 48 team records during his career and was a three-time team MVP. He was both Parade and Street and Smith's All-America performer, Pennsylvania Player-of-the-Year as a junior and an All-State selection his final two seasons. He set the Pa. state record after amassing 8,432 rushing yards and 9,513 all-purpose yards during his career.
Christopher W. "Chris" Nabholz
Chris Nabholz, an alumnus of Towson University, was 23 years old when he broke into the big leagues on June II, 1990, with the Montreal Expos. His professional career actually began in 1988 when he was taken by Montreal in the second round of the draft. He was 23 when he made. his major league debut with the Expos June II, 1990. Nabholz hit the field for the Expos in 1989, at Single-A Rockford. He went 13-5, with a 2.18 ERA. In 1990, the southpaw played for both AA Jacksonville and AAA Indianapolis before joining Montreal. He started 11 games for the Expos in 1990, going 6-2, with a 2.83 ERA. In late August, he threw a one-hitter over seven innings against the Dodgers. He was chosen National League "Pitcher-of-the-Month" for Montreal in September 1991. Nabholz ultimately retired after a six-year career with Montreal, Cleveland, Boston, and the Cubs. He was a two-sport standout at Pottsville High. In basketball, he was the second-leading scorer in history with 1,494 points. As a baseball player, he went 24-4 with an ERA of 1.53. Nabholz also played American Legion baseball, finishing his career with an 18-2 record and a 1.73 ERA.
Joe Valerio was a second round draft pick of the Kansas City Chiefs in 1991 and had a six-year NFL career, five with KC. He started every position on the offensive line and caught four touchdown passes, three from Joe Montana. Perhaps his most noteworthy win with the Chiefs was a Monday Night Football triumph over Denver and John Elway in 1994. Valerio caught a TD pass from Montana early in the third quarter as the Chiefs won the game on a last-minute drive. Valerio was nominated for NFL Man-of-the-Year for outstanding community service. He played his college ball at Penn and competed in such historic stadiums as Franklin Field, The Yale Bowl, and Harvard Stadium. During his career with the Quakers, he earned First Team All-American and First Team All-Ivy League Honors. He was team MVP and was inducted into Penn's Hall of Fame in 2006. Valerio attended Ridley High School in suburban Philadelphia.
Carlesimo coached college basketball for 23 years, including 12 in the Big East at Seton Hall University. He lead the Pirates to the 1989 NCAA Championship game & was selected National Coach of the Year. He served USA Basketball numerous times, both as Head Coach & Assistant Coach, including Olympics, World Championships, World University & Goodwill Games. In 1992, he was an assistant for the Gold Medal Team at the Barcelona Olympics, He has coached in the NBA since 1994, serving as Head Coach of the Trail Blazers, Warriors, Supersonics, Thunder and in 2012-13 as interim Head Coach of the Nets. He helped lead the Nets to their first playoff appearance in 6 years and his 4th as a Head Coach. In addition, he has been an assistant for the Raptors & Nets. He served as Gregg Popovich's lead assistant with the Spurs for 5 seasons from 2002-07, winning 3 NBA Championships.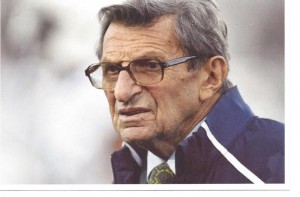 Joe came to Penn State as an assistant coach in 1950, and as Head Coach from 1966 through 2011. He won a record 409 games, 2 National Championships, 27 Eastern or Big Ten Championships, and led Penn State to 5 Undefeated seasons, 23 National Top Ten finishes and an NCAA Record 24 Bowl wins. He coached 48 Academic All-Americans, 79 First Team All=Americans, over 250 NFL Draft Picks, 9 College Football Hall of Famers. He was a 2007 College Football Hall of Fame inductee and Sportrs Illustrated's 1986 Sportsman of the Year; the only college coach ever so honored. His teams consistently posted graduation rates that were among the Nation's best.